GoldenEar Goes Wireless with Its DigitalAktiv 3 Bookshelf Loudspeaker at CES 2018​
(January 9, 2018)GoldenEar Technology is officially entering the wireless space, showing its new prototype DigitalAktiv 3 (DA 3) ultra-high-performance compact bookshelf loudspeaker at CES 2018. The speaker is still in the design phase, but is projected to begin shipping sometime during Q3 or Q4 2018.

Externally, the DA 3 sports a gorgeous hand-polished piano-black monocoque cabinet that's stylized to resemble GoldenEar's loudspeaker lineup. The front side features a magnetically attached metal grille, a small LED display, and several functionality buttons. The rear carries dual RCA and single optical, USB, and 3.5mm inputs, along with a subwoofer output and a service outlet. Its driver array takes cues from the company's Triton Reference speaker, utilizing a 6" cast-basket bass/midrange driver and an HVFR ribbon tweeter. Bass is further enhanced by two Inertially balanced 8" passive radiators.

According to Sandy Gross, the DA 3's active drivers are driven by two separate power sources for reduced distortion and better driver control. These sources are fed from high-current voltage regulated DC rails designed to deliver consistent power during demanding music playback. The 6" bass/midrange driver is powered by a 200 Watt amp, while the tweeter is paired with a separate 60 Watt amp. All crossover functions – including frequency response and phase optimization – are handled by a powerful 56-bit digital signal processing engine.

Wirelessly speaking, the DA 3 carries both Bluetooth and Wi-Fi (2.4 and 5 Ghz) via Chromecast, allowing for music to be sourced from any Chromecast enabled handheld device or computer. Additionally, owners can link together two DA 3s via WISA radio to make a high-performance stereo pair.

Not ignoring the push toward convenience and whole-home operation, GoldenEar says the DA 3 will have voice command control via any Google Home device. Owners can also place DA 3s around their home in multiple zones, with independent control over volume and media playback.
(bron:avnirvana.com)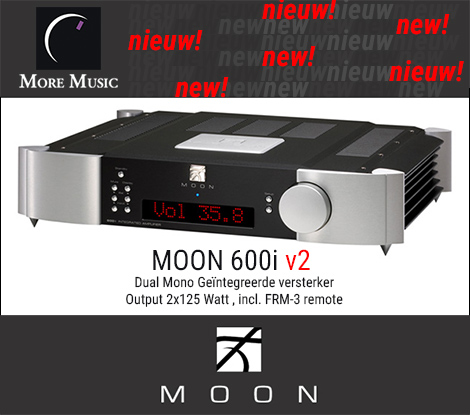 MOON announces the next generation 600i: the 600i v2.
The long-awaited successor to the MOON 600i Integrated Amplifier is finally here. In response to feedback from around the world, the 600i has enjoyed almost 8 years in the MOON line-up of amplifiers, and is now ready for an upgrade. New technological developments have paved the way for an improved version of the 600i, aptly called the 600i v2 ("v2" means "version 2"). The 600i v2 provides an even greater insight into your music, with increased resolution, bass articulation, detail and soundstage, thanks to upgrades in the power supply and gain stages. Of course, the familiar 600i's "family sound" is all there, and is now enhanced to provide even more of everything it already does so well. And the best part? All of this comes to you at the same price as before.
Give the 600i v2 a test drive and experience the true power and emotion of music, while rediscovering your music collection all over again.