Design features
- MDCA – MOON Distortion-Cancelling Amplifier
- MOON Transistors
- Dual Mono Configuration
- M-VOL3 – 3rd Generation Improved Electronic Gain Control
- MOONLink
- 4.3'' LCD Color Graphic Display
The MOON 641 is the centrepiece of any audio system, housing a preamplifier and a power amplifier in a single unit. This thrilling entry point to the North Collection is a truly stunning integrated amplifier showcasing premium MOON design and the latest audio technologies. The 641 will drive even the most demanding of loudspeakers and harnesses exquisitely refined power to deliver performance that will satisfy the most discerning listeners.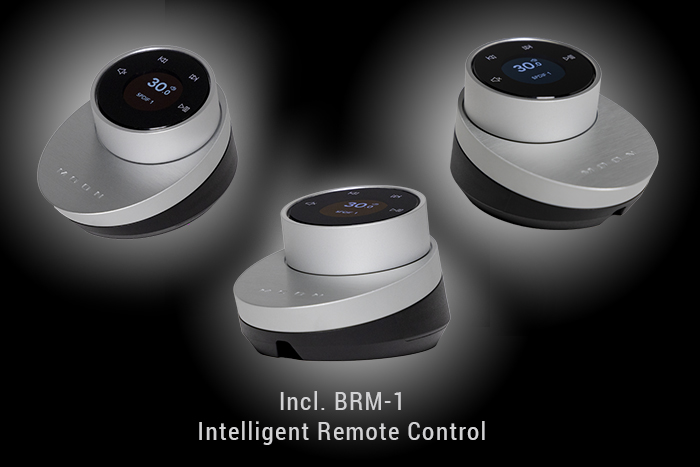 The 641 is a delight to use with the revolutionary BRM-1 intelligent remote-control. While the premium M-VOL3 improves on the celebrated MOON volume control precision, the BRM-1 brings the experience of the luxurious MOON volume knob anywhere in the home with its ground-breaking touch controls, visual feedback, and lavish refinement. Moreover, its new MDCA (MOON Distortion-Cancelling Amplifier) design features an independent circuit with precise signal correction to significantly lower noise and distortion, while the dual-mono configuration fills the room, developing 125 watts into two 8-ohm loads and 250 watts into two 4-ohm loads.

Every model in the North Collection boasts timeless MOON styling features with improved performance. The 641 is no exception, with its slimline form factor ensuring
it fits seamlessly into any environment.

Specifications
- Output Power (Stereo 8 Ω): 125 W
- Output Power (Stereo 4 Ω): 250 W
- Input Sensitivity: 300 mV – 6 V
- Input Impedance: 22 kΩ
- Gain: 37 dB
- Frequency Response: 2 Hz – 90 kHz (+0 dB / –3 dB)
- Crosstalk: –109 dB
- Signal-to-Noise Ratio: 109 dB
- Total Harmonic Distortion + Noise (@ 1 W): 0.008%
- Total Harmonic Distortion + Noise (@ 125 W): 0.003%
- Intermodulation Distortion: 0.06%
- Damping Factor: 700
- Power Consumption (Idle): 38 W
- Power Consumption (Full Power Standby): 37 W
- Power Consumption (Low Power Standby): 2.5 W
- Shipping Weight: 57.5 lbs / 26 kg
- Dimensions (width x height x depth): 48.1 x 10.2 x 46.5 cm

In the box
- Owner's manual
- AC power cable
- BRM-1 intelligent remote control
- 1 spare fast-blow fuse
- MOONLink