A unique and modern approach to an old problem: Dirty Power. The Z Powerbar uses (patented) parallel noise filtration circuits, removing AC line noise you can hear through every speaker, and noise you can see on your new high definition display. By controlling line noise, you will enjoy "blacker" blacks, better saturation of color, and a deepening of the ability to see details in the shadows like never before! Z technology not only protects your investment, it will help make AV components last longer and perform at their absolute best! Get the performance you paid for. Rack mountable or free standing on provided neoprene feet.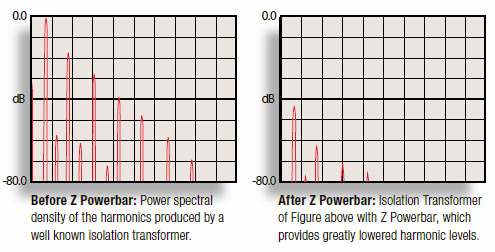 Multiple patented, parallel tuned filters operating over the widest bandwidth, engineered to remove noise from your AC power line.

3 Hospital Grade, audiophile type duplex outlets (grey) with patented Stabilizer circuitry (US version).

1 Digital isolated Hospital Grade duplex (orange): isolates digital components from the analog components and further eliminate digital noise insertion from connected components, such as a CD or DVD player.

1 Hospital Grade duplex outlet (red): to indicate power is always on.

PFC (Power Factor Correction): reduces transmission losses and improves voltage regulation.

Surge and spike protection: for noise-free A/V performance and improved service life.

15 amp breaker with reset switch.

Satellite/cable/telephone protection circuits.

Excellent for silent AV power distribution near fluorescent lights and low voltage lighting.
Finish black or silver