Shunyata Research developed the VENOM DIGITAL power cord to address the specific noise challenges digital electronics present to the performance of digital recording, video and sound systems. Unlike other power cords that claim to address noise, the VENOM DIGITAL PC measurably lowers the power line noise emissions from digital components (see graphs). This measurable difference results in improvements in clarity, dynamics and resolution in any entertainment or recording system.

The VENOM DIGITAL PC contains a unique, noise canceling circuit that filters ultra-high frequency noise commonly associated with digital electronic power supplies. The VENOM DIGITAL uses the same conductors as the award winning VENOM-3 power cord but terminated with audiophile grade connectors.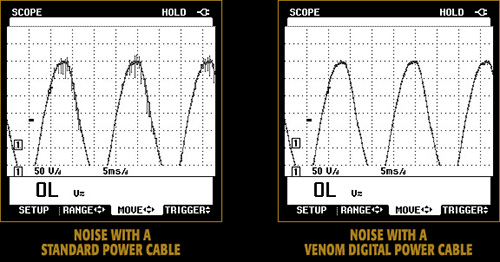 The VENOM DIGITAL power cord is an important link in Shunyata Research's line of VENOM SERIES power cords. Each component in Shunyata Research's VENOM Power System is designed to serve the unique current or noise demands of each component by maximizing peak-current delivery (DTCD™) and minimizing the noise shared between electronics -- component-to-component interference (CCI). The VENOM DIGITAL serves its purpose by reducing the output of high-frequency noise and preventing this noise from affecting the performance of other components. The VENOM DIGITAL has extremely broad application potential and will perform similarly in all video systems as well as audio.

PURE OFC COPPER CONDUCTORS
- Oxygen free copper
- Large 12 Gauge Conductors

DTCD™ TESTED
- Designed using the Shunyata Research DTCD™ Analyzer
- Ensures maximum instantaneous current capacity

SAFETY ASSURANCE
- Continuity and Polarity Tests - by two technicians
- HiPOT Tests for each cable
- Cable spools tested for insulation breakdown @ 4,000 VAC

TEST EQUIPMENT
- Fluke Model 43 Power Analyzer
- Incandescent lamp
- Paper shredder
- Belden power cord
- ΞTRON™ α DIGITAL power cord

TEST PROCEDURE
- The DUT (power cord) is plugged into a standard wall outlet.
- The lamp is connected to the IEC end of power cord and acts as a load device.
- The power analyzer leads are connected across Hot and Neutral at the exit of the power
cord IEC.
- The paper shredder is plugged into the second outlet of the duplex where the DUT is
connected.
- The shredder is turned on and the AC waveform is captured by the Fluke power analyzer.
- This test is repeated for each power cord.
STANDARD LENGTH
- EU 1.75M

COLOR
- Blue w/white stripe

CABLE DIAMETER
- 0.45 inches (11.4 mm)

ELECTRICAL CONDUCTORS
- OFC 12 AWG

MAXIMUM VOLTAGE
- Max Voltage (US): 90-240 VAC (connector dependent)
- Max Voltage (Asia): 90-240 VAC (connector dependent)
- Max Voltage (Euro): 240VAC (connector dependent)
- Maximum Instantaneous Voltage: 1250 VAC

CURRENT RATINGS
- Max continuous current: 20 Amps (connector dependent)
- Max instantaneous current: >200 Amps (800ms)

ELECTRICAL TESTS
- Polarity and continuity tests x2 (each cable tested)
- HiPOT Test: 2,000 VAC @ 5s (each cable tested)
- Insulation Breakdown Test: >4,000 VAC @ 2 minutes

AVAILABLE CONNECTORS
- EU EURO CEE 7/7 Molded
- IEC C15 Molded
Voor de beschikbare Venom types en lengtes van deze kabel raadpleeg de prijslijst.